We are partners of the
REICH Thermoprozesstechnik GmbH in 73579 Schechingen
Producer of high-performance AIRMASTER® universal smoking and ripening systems

Find out more about our product portfolio for the refinement of meat and sausage products, fish products, cheese, poultry and other delicacies and experience the benefits that are vital to your business success. REICH offers innovative solutions, whether for trade or industry on the topics of smoking, cooking, baking, ripening, cooling and thawing.
Please contact us. We will advise you.
Phone: +49 7181 – 990953, E-Mail or contact formular.

Our product portfolio: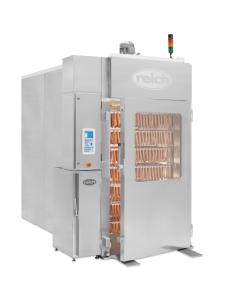 AIRMASTER® UK
The AIRMASTER® UK is a real all-rounder. Its advantages are fast process times and high quality processing quality.
It's price / performance ratio convices.
UK-universal chambers can be supplied with single or double-row entry in all desired sizes from 1 to 14 trolleys.
All known smoke generator systems like glowing smoke, steam smoke, frictions smoke and liquid smoke can be employed to AIRMASTER® UK.
---
 AIRMASTER® UK 1-trolley chambers

AIRMASTER® UK-1-trolley chambers can be deliverd in 5 different sizes and with all known smoke systems.
Extensives optional equipments can be choosed: Clima packet – High-temperature version – sight window – cooling shower – autom. door opener – visualisation – etc.
---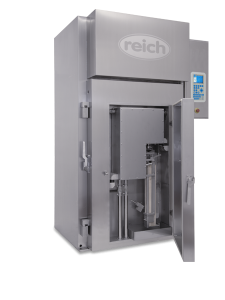 AIRMASTER® UKF SMARTSMOKER
The AIRMASTER® UKF SmartSmoker has already made a name in practice. The new cone head friction smoke generator buil-in the chamber door convinces through high smoke performance and quiet mode of operation. An extremely space-saving smoke house.
---
AIRMASTER® UKQ AIRJET
The AIRMASTER® UKQ AIRJET is worldwide the highest-performanced cross- flow smoke chamber. Especially for lying products the UKQ AIRJET offers produktion capacities, which were previously not possible. Like all AIRMASTER® the UKQ AIRJET persuaded through versatile treatment possibilities.
---
AIRMASTER® IC InterCooler
In the new AIRMASTER® IC the goods can be cooked, smoked and cooled-down in one process run for immediate packaging. And this without switching of trolleys.
---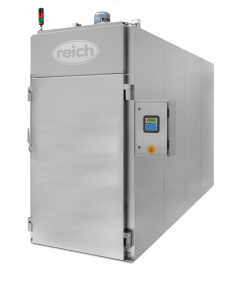 AIRMASTER® KK , KBK
AIRMASTER® KK cooking chambers acts for scalding and cooking in steam. The steam generating occurs through low-pressure steam delivery or through self steam generating by fresh water evaporation by customer.
AIRMASTER® KBK
AIRMASTER® KBK cooking, drying and hot air cooking chambers.
---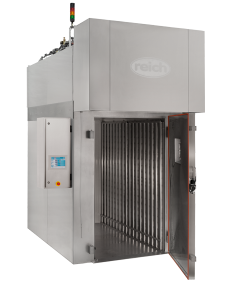 AIRMASTER® BKQ
AIRMASTER® BKQ AirJet is the high performance baking chamber of REICH. With cross-flow air leading temperatures to 300°C can be taken.
---
AIRMASTER® IKK                    
The REICH intensivc cooling chamber acts for fast cooling-down or cooked or hot air cooked goods. Equal whether shower cooling, intensive cooling, drying or evacuating. The AIRMASTER® IKK guarantess for quick down-cooling times of products.
---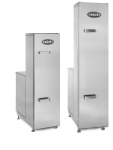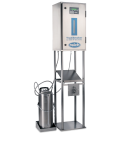 REICH smoke generators
FOR EACH TASTE THE PROPER SMOKE!
We offer this smoke generator systems:
MaxxSmoker, the wood chips smoke generator
NaturalSmoker, the saw-dust smoke generator
SteamSmoker, the steam smoke generator
FrictionSmoker, the original friction smoke generator
SmartSmoker, the friction smoke generator in door
LiquidSmoker, the liquid smoke generator system
The REICH smoke generator systems are the final product of development products for years. All here presented smoke generators were perfectly aligned of the AIRMASTER®-serie. Together with the UNICONTROL control systems of REICH, the smoke generators work fully automatic and according their execution and their safety installation the current state of technology.
---
AIRMASTER® ATA                    
Frozen meat often must be thawed many times before further processing to a temperature around zero or above. This process handles the AIRMASTER® ATA extremely mild and with highest precision.
AIRMASTER® ATA thawing systems will be installed in rooms by customers.
---
AIRMASTER® KRAI, KKRI, KNRI
REICH CLIMA RIPENING CHAMBERS are designed for ripening, drying, clima smoke and post ripening treatments for raw sausage and ham.
For each request the suitable chamber will be configured. Available are plants from 1 trolley to 300 trolleys for all heating systems and cooling medias. On request with ECOMIZER to use the outside air.
---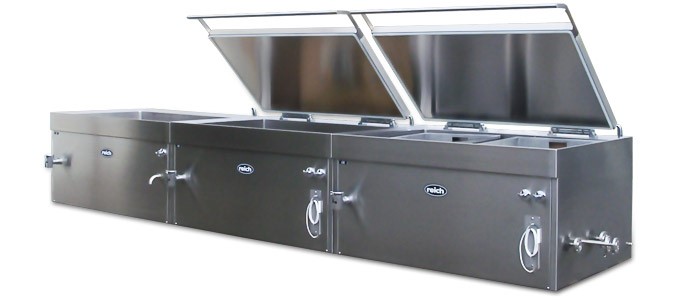 COOKING MASTER
REICH COOKING MASTER cooking vettle offers many advantages:
High-quality, stable construction completely made from chromium nickle steel
Thermal fully isolation
Heating for electric, gas, oil or steam
Cover isolated with silicon sealing and security grip
Electrical multifunction controller for operating and core temperature
Click here for REICH Thermoprozesstechnik GmbH